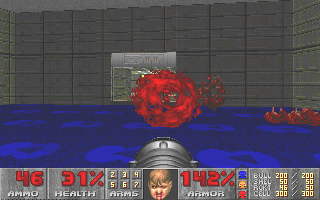 You've reached Doc's Doom node
Be Careful as you enter 8-)



Frag Count ( since 3/16/96) -------------------------------------------------------------- >
Welcome


This page is devoted to iFrag




Note: You must have a

addiction to view this page,
Of course, Doom is a game by id-software.
This Page is NetScape enhanced. Use it toget best results.




---
WARNING WILL ROBINSON: This page is completely experimental at this stage and in its infancy so beware!!

---
---
So Doc where da fuq we're you ... I was abducted by the Ionatrex Empire (a small but emerging Alien group)they performed the usual tests 8-() and held me for questioning in a chamber consistinga mixture of hydrogen 3 gas and morphine extract..I told them everything and then some.. (they eventually let mego 'cos I wouldn't shut up). I also purchased a set of I-glasses a copy of descent2 and duke3d the full version..I am only now recovering from 1 week of total immersion. So what did I miss.....?
---
The tracker may seem a little empty but you can be assured that someone is always lurking ..I suggest incresing your patience factor while waiting for or setting up a game..check the web to see who's around. Whoever is actively playing fell free to drop me an email..I will create a list of players and emails for co-ordinating games. Cya in arrow5 :)
---

Quik Start: CheeseVille(5/21/1996)